To give you a better overview we have sorted the question in the categories below.
When is the Brückensteig open?
We are available at Haus Müngsten* on the following days:

Saturday, Sunday
10:00 a.m. – 6:00 p.m
Monday – Friday: on request
Auf Anfrage
*Please note that we usually only allow tours booked online in advance.

Since we plan our staff in advance, spontaneous bookings for the same day on site are not possible.
More information on this can also be found in the following two points.
At what times do the tours start?
The starting times are depending on the number of visitors we expect for that day based on the tickets booked online. The best way to get an overview of which starting times are available, is to use the calendar when you select the tickets in our online shop.
 Please note: As we plan our tours as flexible as possible for everyone, it is completely normal that we offer more tours on one day and fewer tours on another day.
Can I (spontaneously) book a tour on site?
Since we plan staff for the guided tours in advance, it is not possible to book spontaneously on site. We therefore recommend that you always book online. Of course, with a bit of luck, there could still be last places free on the same day. In case you anyway plan to stay longer in the Bridge Park and are flexible with the time – please contact us at the check-in. There you can also book an appointment for other days. At check-in, payment is only possible with an EC card.
How expensive is the Brückensteig tour?
Single ticket: €79
Discounted ticket: 69 €
Who can buy a discounted ticked?
– Children (under 18 years)
– Students (with a valid student ID)
– Holders of the WSW subscription ticket (Abo-Oho!)
– Apprentices (with valid ID)
– Pensioners (with a valid pension card)
– Persons with a valid disability card from GdB 50 and, if noted on the card (B), a possible accompanying person
(Important: Accompanying persons must also purchase a ticket.)
Proof of the discount must be presented at check-in!
Are children allowed at the Brückensteig?
Children at the age of 6 to 14 years may only complete the bridge trail when accompanied by an adult. This can also be an adult accompanying person determined by the legal guardian. In this case, we ask you to fill out the form sent with the booking confirmation and to present it at check-in.
We also need a declaration of consent from a legal guardian for children and young people below the age of 18. You can also find this in the booking confirmation and can print it out, sign it and bring it with you or fill it out on site.
Can you gift the tour to someone else?
Our experience voucher is the ideal gift for adventure seekers, railway enthusiasts and fans of the Bergisch region. Our voucher is available online with a code to redeem by email or as a gift voucher by post. For more information click here.
Do helmets and harnesses cost extra?
No. The rental of a suitable harness and a helmet is included in the price. Please do not bring your own belts. Our trainers know the straps, will help you to put them on and take them off and check that each strap is tight before you head towards the bridge.
Who is suited for the Brückensteig?
The climb is an experience for young and old, for big and small, for families and friends, hikers, railway enthusiasts and and and… Although it goes to dizzy heights (up to 100 m), no climbing experience is necessary: The via ferrata over the Müngsten Bridge goes through steps. The first and last steps are the steepest. Whoever manages the first steps also manages the climb. On the way there are always short stops to breathe in and out and there is enough time to take individual breaks.
In addition to the age limit (see above), we have to limit the permissible total weight of climbing people to a maximum of 120 kg for safety reasons.
Do I need (climbing) experience?
No. No special experience is required to walk the bridge. The security system is self-explanatory and a trainer is always there to help you if you have any questions.
Who is excluded from the tour?
We take our responsibility seriously and reserve the right to exclude people from the tour in individual cases who do not follow the safety instructions or who do not appear to be able to complete the via ferrata, for example due to excessive alcohol consumption. By signing the disclaimer, you assure us that, to the best of your knowledge, you are able to do the tour and that you have consulted a doctor in case of doubt (pregnancy, acute health condition, etc.).
Where does the tour start?
The tour starts at Haus Müngsten and takes you over the lowest arch of the Müngsten Bridge from the Solingen side to the apex. There you walk at a height of almost 100 meters over a platform onto the parallel arch of the bridge. More information about the tour can be found here.
How long will the tour take?
The tour lasts a total of two and a half hours, from the check-in, the greeting, the briefing on the safety system and finally the ascent and descent to the farewell with a group photo.
Do I have to wear special clothing for the climb?
Basically: If you go outside on that day, check the weather, feel comfy and can move well, you should be properly dressed. During colder periods, a jacket is needed, but during hot summer months, a t-shirt should be fine. Note, however, that it can get windier and a bit cooler at the top of the trail than at the bottom of the bridge park.
You also wear a climbing harness for the duration of the ascent, as can be seen in almost all the photos. This can rub on bare skin (e.g. on shoulders, legs) if your clothing does not cover these areas.
Do I need special footwear?
We recommend that you wear (non-slip) sturdy shoes (no sandals!) for the climb.
What about glasses, earrings and co.?
We climb over the heads of everyone who moves in the bridge park, so we have to make sure that nothing falls down. We therefore ask you to take off jewelry that could fall down or you could get caught with. See – also concerning smartphones – the point 'What do I do with my valuables?' on this page. 
We will also secure your (sun) glasses with a glasses strap (against a deposit) if you don't have one with you. We also ask you to wear a hair tie if you have long hair.
Why do I need a hair tie?
If you have long hair, we recommend that you take a hair tie with you to tie it back. This way you can prevent them from getting caught in the security system. This happens very rarely, but if it happens, it is very unpleasant 😉
What do I do with my dog during the tour?
Dogs (and other animals) are not allowed on the bridge. Please also note that dogs must remain on a leash and under supervision throughout the bridge park.
Do you have a Corona concept? Do I need to be tested / recovered / vaccinated?
Since 02.04.22 participants aren't obliged to submit valid proof, that they have been tested, recoverd or vaccinated. However, we kindly ask you to wear a face mask (only inside Haus Müngsten) and stay home when you are feeling sick.
Can I eat / drink during the tour?
Eating and drinking is forbidden during the tour as we have to make sure that nothing can fall off the bridge. On hot days, please make sure to drink enough before the tour starts.
 After the tour, visitors to the Bridge trail can benefit from the culinary offerings of the restaurant in Haus Müngsten.
How can I rate you / recommend you?
We look forward to every positive rating and are happy to accept constructive criticism. We look forward to see you on Instagram, Facebook.
How do I find you?
Address for GPS:
(follow the signs to the parking lots)
Müngstener Brückenweg 71
42659 Solingen
Arrival by public transport:
Train to Solingen-Schaberg station
Bus to the Solingen Müngsten Brückenpark stop
As soon as you arrive at the bridge park, you can hardly miss us. You will find signs that lead you directly to Haus Müngsten from the parking lot, the bus stop and the hiking trails. From the main entrance you can reach the second floor via the staircase. Our team will welcome you there for check-in.
When should I be there?
We kindly ask you to be there at least 15 minutes before the start of the tour so that everyone can get started quickly.
What is the check-in process? Do I have to print my ticket?
After booking you will receive a ticket with a QR code by email. You show us this (printed or digital) and you are checked in. We ask you to have your ID, proof of your discount and, if no legal guardian is present, the necessary documents for persons under the age of 18 ready and to present them without being asked.
Before we can start, we have summarized important information for you on our tablets. There you also sign the disclaimer for us, which we are obliged to archive. With your signature you confirm, among other things, that you have discussed health concerns with a doctor beforehand.
What do I do with my valuables? What about my mobile phone?
Your valuables, i.e. jewellery, wallet, keys, backpack etc., are safely locked in a locker before the start of the tour. This is necessary because we have to make sure that nothing can fall off the bridge, so your pockets should also be empty.
A mobile phone can be taken along to take your own photos on the bridge. But: In order to be able to rule out falling smartphones, we have to make sure that everyone who takes their phones with them on the climb has secured them appropriately. Mobile phone cases with a chain that can be attached to the belt are ideal for this.
If you have such a case, you are welcome to bring it with you. A trainer will then examine your case and decide whether it is suitable. Alternatively, mobile phone cases can be purchased when booking on site at check-in.
Is someone of your team around if I have questions?
We are convinced that the climb will only be a successful experience for everyone if we can get to know you as a group. Therefore, for the entire duration of the tour, one person from our team will be at your side as a guide to answer all your questions and requests.
How does the tour work?
After someone from our team has greeted you, you go outside for the safety briefing. The safety belts are then distributed and it is ensured that each belt is tight before heading towards the bridge. You will also get a headset that allows you to hear the trainer on the bridge better and to ask questions even if you are further away.
Arriving at the foundation of the bridge, you will be latched into the continuous safety system. From then on, the tour begins over the arch of the bridge. Throughout the tour there will always be phases in which we will give you a short input, where questions can be asked and in which photographs can be taken. A group photo will be taken at the top of the highest point and at the bottom after you completed the bridge trail.
Can I take photos during the tour?
Sure! You can take your mobile phone with you, which has been secured against falling down via your own mobile phone case or one provided by us. A camera (e.g. an analogue or digital single-lens reflex camera) must also be secured against falling and firmly connected to the belt. Please note that cameras that are too large can quickly become an obstacle when climbing the arched staircase. For this reason, we ask you to abstain from large camera bags, interchangeable lenses, etc. In case of doubt, the decision as to whether the camera can be taken onto the bridge is taken by your tour guide.
What happens to the photos taken during the tour?
The Müngsten Bridge is great in the truest sense of the word. Therefore, it might be difficult to bring you and your group into the best perspective with your Smartphone from a close distance. In order to supply you with great pictures, we will take a camera to the bridge and take some photos of you. After the tour, we will print out a photo for you as a souvenir and make the remaining photos available to you free of charge in a password-protected area of our website that only members of the group have access to. We hope that we have found a good compromise between our visitors' desire for great pictures and your right to your own picture. You must agree to the provision of photos in the manner described above in order to book the bridge trail. Important: We will not publish any photos of you or your group on our website without your explicit agreement.
We would be happy if you publish beautiful pictures that you took yourself with the hashtag #brueckensteig on social media.
What else is there in the Bridge Park?
In addition to the bridge trail, there are a number of exciting excursion destinations in the Müngsten Bridge Park and the surrounding area that can be combined with a visit to us.
What happens if it rains?
The bridge is also open when it rains. We have ponchos ready for heavy showers so nobody gets wet. With a bit of luck, the bridge will show you its mystical side on a rainy tour: While climbing the stairs, you break through the fog that has collected itself in the valley and gives you a unique panorama at the top.
And in thunderstorms?
Since thunderstorms often only occur for a very limited period of time, we are also open on days with thunderstorm warnings. Thunderstorm warnings are important and useful and we take them very seriously. On such days our teams and organization are prepared to bring everyone to a protected area asap in the event of a thunderstorm. However, we reserve the right to close the bridge platform if the weather conditions do not allow a safe crossing of the bridge. In this case we will cancel booked appointments (see next point) and put a notice on our website. If you are unsure whether the trail is open, you will find the info there.
What happens if my tour is cancelled?
If we have to cancel your tour (e.g. due to a bad thunderstorm or a storm warning), you will of course get your money back. You will then receive an email with further details as soon as possible.
How can I cancel a booking?
In order to guarantee you an optimal experience, we plan staff and material in advance so that your visit runs smoothly. Your booking can be canceled up to 10 days in advance by telephone, email or on site. We will then convert your ticket into a voucher of the same value that you can use online to climb the bridge on another date. Cancellation is generally no longer possible less than 10 days before the tour. If you have any further questions, please do not hesitate to contact us by phone.
How safe is the tour?
Even before you step onto the bridge, you are in a continuous safety system from which you can only release yourself at the end of the tour. This way we can guarantee that everyone is always safe throughout the tour. Both the safety system and the bridge itself are checked regularly.
What happens if I don't want to go any further?
During the entire tour you are in a continuous safety system, which means that you can only release yourself from the system at the end of the tour, when you are back on the ground. For security reasons, this option is reserved for our team only in an emergency. So if you (or your child) suddenly have concerns about the height, contact your guide at any time before or during the tour via headset. Together we will always find a solution, we promise.
Are there special offers for educational institutions?
School and class trips offer the opportunity to have unique experiences, to strengthen team spirit and to learn something. Tailored to the different age groups, we offer experiential education for school classes and educational institutions.
Do you also offer exclusive tours?
If you book via our website, it is always possible that other groups or individuals will also occupy the free places. In this way we offer everyone maximum flexibility and planning security. We are happy about the different group dynamics that result from this. And yet there are of course birthdays, trips with the team or clubs etc. For these occasions it is also possible to book exclusive tours with us. This is best done by phone during our office hours.
Do you also organize company parties and company outings?
The Brückensteig and Haus Müngsten are the ideal event and unique location at the same time. Deepwood GmbH not only operates the bridge trail, but also looks back on many years of experience in the preparation and implementation of team-building arrangements and incentives. Non-binding advice and information for companies can be found here.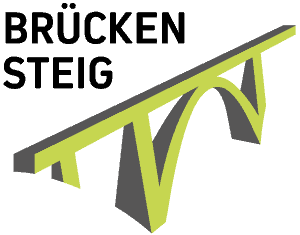 Brückensteig
Haus Müngsten (2. Etage)
Müngstener Brückenweg 71
42659 Solingen
Mail: info(at)brueckensteig.de
Fon: 0202 69520680