The Tour
A unique view on the Müngsten Bridge Park from a height of 100 m
From check-in to the unique view on the Müngsten Bridge Park
The bridge trail is a guided tour over the arch of the Müngsten Bridge with up to 15 people. We have summarized the highlights of the tour, so you know what to expect. If you have never been to the Müngsten Bridge Park before, you can find here information how to get there. The tour starts on the top floor of Haus Müngsten. After registering, someone from our team will greet you and explain what to expect. You will be equipped with walky talkies to stay in touch with your guide and to ask questions if needed.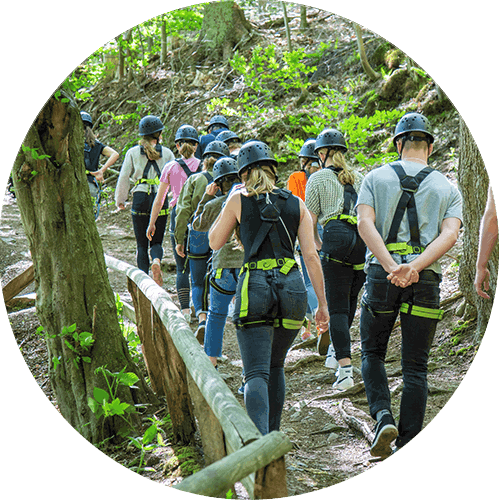 1. Getting to the Bridge
In the shadow of the bridge, the climbing gear is being put on and then off you go: As the bridge gets closer and closer, the pleasant anticipation of the experience increases. You will get to know the bridge and its history through small anecdotes. Arriving at the foundation, you will be instructed about our safety system: You latch yourself in with a flick of the wrist – and the adventure begins.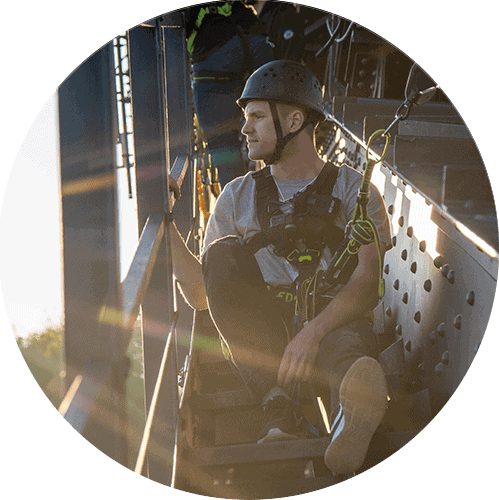 2. The Brückensteig
Step by step you now climb up the bridge, while the breathtaking extent of the building unfolds. The tour reaches its spectacular highlight all the way at the top. A group picture at a height of 100 meters will be taken and, in additon, there will be time to take photos yourself and enjoy the fantastic view over the Müngsten Bridge Park. After the descent, you return to Haus Müngsten via the second arch of the bridge.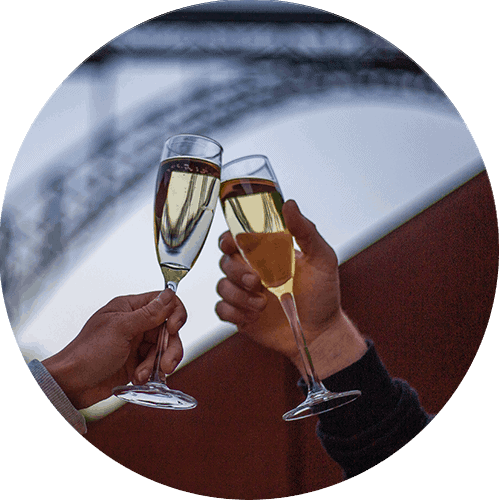 3. The conclusion
Afterwards you can take the last photos on our terrace against the backdrop of the Müngsten Bridge while enjoying some cool drinks. As a souvenir of the day, you will be provided free of charge with all the pictures taken including the the picture of your group. In the end you have the opportunity to order a coffee at the Müngsten house or to end your day with a nice dinner.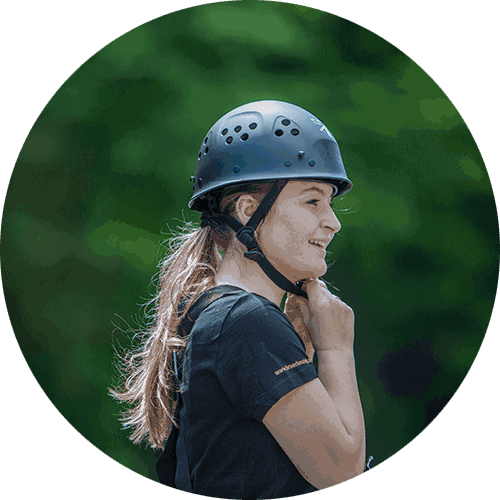 that's how individual we design your tour
The Müngsten Bridge Park attracts hundreds of thousands of visitors every year: families with children, hikers on foot and by bike, railway enthusiasts, pensioners and many more. We want to welcome everyone to the Müngsten Bridge and inspire them for this unique building. How it works? By getting to know You and You as a group! Therefore, one member of our team is assigned to your group and will be your guide throughout the tour. You are particularly interested in a certain photo motif – about a detail of the buildings history – we can respond to your individual questions and wishes.
UNFORGETTABLE BRIDGE MOMENTS
A photo of you on the Müngsten Bridge
In front of the steel girders of the impressive construction or at a height of 100 m with the Müngsten Bridge Park in the background: Impressive perspectives are offered on your way up and down. In order to capture these moments, we take (at least) three breaks on the bridge: on the way up, at the highest point and on the way down.
Equipped with a mobile phone case that protects your smartphone from falling, you can take photos yourself or have us take photos of you. You will then receive the pictures as a free download after the tour. More information is also available in our FAQ.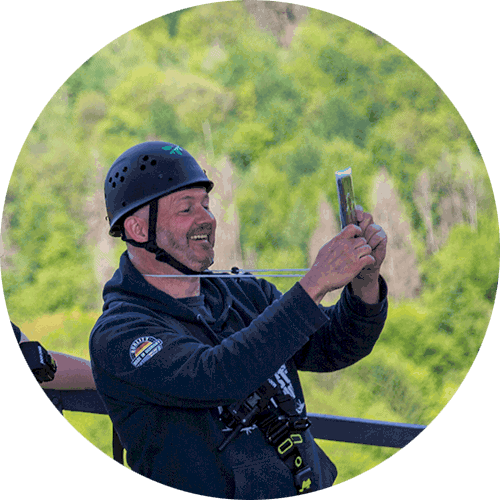 At the times listed below we are on the move for you at the bridge and in the Müngsten Bridge Park. Please note that in order to walk the bridge trail, you should book a tour a few days in advance. We cannot offer you a tour without having a previously booked ticket. See also our FAQ.
Saturday, Sunday
10:00 a.m. – 6:00 p.m
Monday – Friday: on request
Auf Anfrage
Since we plan our staff in advance, spontaneous bookings for the same day on site are not possible.
OUR PRICES AT A GLANCE:
The price includes the guided tour over the Müngsten bridge arch as well as photos of you and your group including a printed group picture. The tour lasts approximately two and a half hours.
Single ticket: €79
Discounted ticket: €69
Children under the age of 18, students and pensioners, for example, can get a discounted ticket (learn more).
MORE EXPERIENCES IN THE MÜNGSTENER BRIDGE PARK
A visit to the Müngsten Bridge Park is not only worth it for the bridge trail. There is much more to explore in the shadows of the Müngsten Bridge and in the area of 'Bergisches Land'! Therefore, in cooperation with other providers, we offer exciting adventurous combination tickets. Are you responsible for the next company trip? Whether as an incentive or for team building, we invite you and your team to benefit from our experience. As well as our partners, we are also educated in the field of adventure-based learning. We look forward to your request!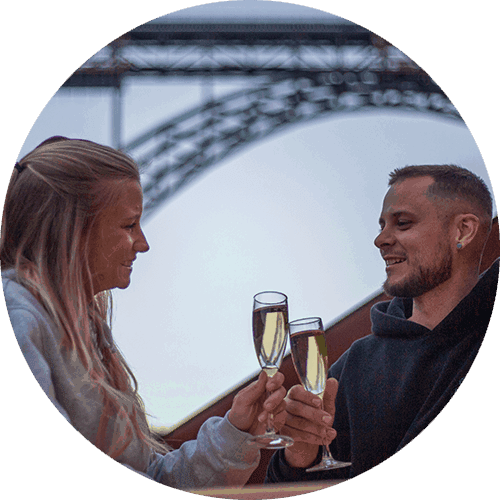 Special offerings from night tours to romantic sundown tours.
With our team-building modules, we offer companies established measures in front of and on an impressive backdrop.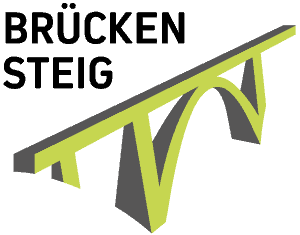 Brückensteig
Haus Müngsten (2. Etage)
Müngstener Brückenweg 71
42659 Solingen
Mail: info(at)brueckensteig.de
Fon: 0202 69520680
Woher führt der Brückensteig?
Im Müngstener Brückenpark startet die Tour. Von Haus Müngsten aus geht es über den Bogen der Müngstener Brücke bis zum Scheitelpunkt. Nachdem Du die Aussicht über den Müngstener Brückenpark geniessen konntest, geht es über eine Plattform auf den parallelen Brückenbogen und wieder zurück.
Wie lang dauert die Tour über die Müngstener Brücke?
Zweieinhalb Stunden lang geht die Tour. Anschließend kann man das Erlebnis im Müngstener Brückenpark ausklingen lassen.
Für wen ist die Tour über die Müngstener Brücke geeignet?
Der Brückensteig ist ein einzigartiges Erlebnis für Groß und Klein. Bis auf einige steile Stufen hält Dich nichts davon ab, das Panorama über den Müngstener Brückenpark zu genießen. (Mehr erfahren)
Dürfen Kinder den Brückensteig erklettern?
In Begleitung eines Erwachsenen dürfen Kinder im Alter von 6 – 14 Jahren mit einer erziehungsberechtigten Begleitperson und Kinder bis 18 Jahre mit Einverständniserklärung eines Erziehungsberechtigten den Brückensteig absolvieren.